K80 Series Rotating Cam Limit Switches
K80 units are available in many configurations and styles. The following is a list of the standard features that can be configured:
Enclosure Style:
Nema 1 – General purpose enclosure
Nema 12– Oil tight and dust tight enclosure
Number of Cam Limits:
Available up to 12 limits standard (8 limits when used in cam / resolver package)
Switch Type:
SPDT 15Amp rated or DPDT 10Amp rated Switches
Shaft Location:
D – Double Ended Shaft (standard)
R– Right Hand Shaft
L– Left Hand Shaft
Optional:
Optional items such as integral sensors, gear boxes, custom shaft styles, custom switch configurations
KPD -Press Automation Controller 
The KPD system consist of three components:
Controller

Resolver to controller cable assembly

Resolver package.
Controller only: Panel mount controller with all features. Customer to supply 24 Vdc input power.
Controller with Power Supply: Includes panel mount controller, power supply and 6ft. interconnect cable.
Controller in Nema 12 Enclosure with Power Supply: Mounted in enclosure, power supply and 6ft. interconnect cable.
Block Resolver : Resolver with face or body mounting holes and 5/8" input shaft.
Block Resolver with Foot Mount Adapter: Allows the block resolver to be foot mounted.
Cam / Resolver Combination: Gives both mechanical cams and resolver in one package.
Standard length of 15 ft. – Additional lengths to 300 ft. available.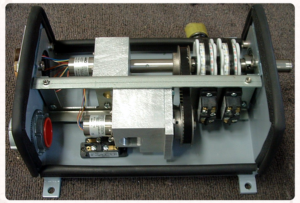 6 Programmable l

imit switches with 

time based outputs 

and speed compen

sation

4 Programmable 

die protection i

nputs

50 Job Storage

Counters

Brake Wear I

ndication


Motion Detection